Joe Burrow shared his thoughts on the terrifying situation involving Damar Hamlin.
The Cincinnati Bengals Pro Bowl quarterback praised the NFL for deciding to postpone the game after Hamlin suddenly collapsed on the football field during the first quarter against the Buffalo Bills in Cincinnati on Monday night.
After Hamlin left the stadium in an ambulance, Burrow and his teammates discussed the situation and spoke with some of the Bills players. «Nobody wanted to keep playing,» Burrow said.
CLICK HERE FOR MORE SPORTS COVERAGE ON FOXNEWS.COM
Burrow also mentioned that the league has not been in communication regarding the potential for a rescheduled game.
«We're kind of in the dark about the whole situation,» Burrow told reporters on Wednesday.
The NFL has announced that the Bills-Bengals game «will not resume this week.»
BENGALS' ZAC TAYLOR RECALLS A SHADOW TALK WITH BILLS' SEAN MCDERMOTT MOMENTS AFTER DAMAR HAMLIN'S COLLAPSE
Burrow said that rescheduling the game so late in the season could prove difficult. Ultimately, Burrow said he prefers to do what's best for the Bills when it comes to any potential comeback games.
«I think it would be difficult just scheduling-wise,» he said. «I think whatever Buffalo wanted to do would be what we would want to do as well. We stand behind them 100% and support them in whatever they decide to do in the future.»
The Bengals are still scheduled to play the Baltimore Ravens this Sunday in Week 18.
The game has major playoff implications for Cincinnati. A win will capture the AFC North division title for the second straight season, but that doesn't seem to be the players' main concern this week.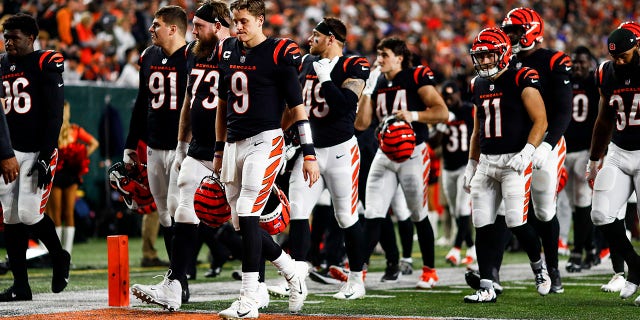 «Unfortunate as it is, we have a game to play on Sunday,» Burrow said. «As unusual as this week has been, unfortunately it's business as usual from a football point of view.»
«I really don't even know what to say about it because it's such a scary, emotional time and the guys still have a football game to play on Sunday,» he continued, «and it's our job to go out and run and play.» the game the way we need to play it to go and win. It is what it is. We've had discussions as a team about what happened and where we're moving forward, and that's where we are. «
BENGALS' TEE HIGGINS' FAMILY SLAMS TIP WIDE RECEIVER WAS TO BLAME FOR DAMAR HAMLIN'S SITUATION
Burrow added that there have been some «side discussions» about not playing in Week 18.
«I'm sure if I did a locker room poll, there would be mixed votes on that,» Burrow said when asked about the team's feelings about playing this weekend against the Ravens.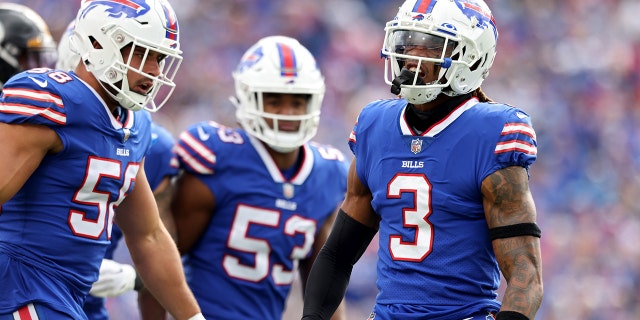 «Personally, I think it's going to be difficult, but there are people who also want to play and there are people who don't. Personally, I probably want to play. I think getting back to normal as quickly as possible.» how they can is personally how I deal with this kind of thing. Like I said, everyone has a different way of dealing with it,» she added.
CLICK HERE TO GET THE FOX NEWS APP
The Bengals-Ravens game will kick off Sunday at 1 pm ET at Paycor Stadium in Cincinnati.