EL PASO, Texas — Real estate developer Tanny Berg sees neither chaos nor danger when she looks at the lines of people arriving at the border as the United States makes a change in the way it handles immigration.
Instead, he says, he sees history, the reality of a border town, a broken immigration system and desperate people being scapegoated in a politically polarized world.
"We are used to migration in this area, people who come from northern Mexico. We all trace our history… that's how people got here," said Berg, 74, a lifelong resident of the border city and former president of the El Paso Chamber of Commerce.
On Thursday, the Biden administration stopped governing the border with Title 42, a pandemic-era restriction implemented by then-President Donald Trump. Biden returned to national immigration law with some policies of his own.
Berg dismissed descriptions of people at the border as invaders and said the city adjusted to new arrivals as it has since the start of the United States and Mexico and the start of Texas and Mexico.
"We are used to transitioning people from one place to another," said Berg, who is also a member of a Customs and Border Protection advisory board.
He noted that a few hundred people a week regularly come to the border to request asylum, but when Trump implemented Title 42, which allowed border officials to remove migrants without considering them for asylum, he «tried to put a cork» in what had been going on «forever» and the border towns ended with masses of people.
The Biden administration says the new arrivals are part of the largest global displacement of people since World War II. El Paso has been at the center of this, drawing a variety of responses from its residents.
The city's economy has always been based on cross-border trade. Berg said some immigrants arrived with money and were buying food at Starky's Pizza, a restaurant across the street from the Sacred Heart Church shelter in downtown El Paso.
He shared a recent conversation he had with someone who had recently crossed the border.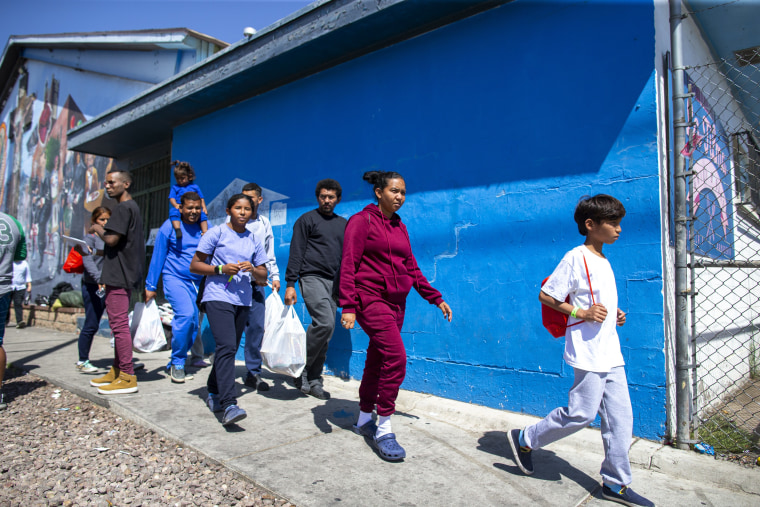 "I spoke to a migrant who told me: 'Do you think I want to sleep on the sidewalks of your street? My life is finite, do you think I want to spend three days sleeping on your sidewalk? I have to create a better environment for my family. I can't fail because it's just not about me,'" Berg said.
Others had a different view of the current situation.
Julissa Garcia, also an El Paso resident, said she understands that "everyone wants a better future, but they are taking our taxes, they are taking everything." The city is overwhelmed, she said.
She also expressed concern for the safety of her children who attend a school next door to a school that was being used as a shelter.
Some neighbors lent a hand to the new arrivals in the border city.
María del Carmen Favila delivered a bag of food to some people at the Sagrado Corazón shelter. "They are poor and they need to eat," she said. "I need to help. I like to help. I have a good heart and I feel more for the children.»