Georgetown guard Brandon Murray set the tone for the Hoyas in the first half against Villanova on Wednesday night, but the team failed to break its losing streak in the Big East Conference.
Murray received a pass near the top of the key with about 12:13 left in the first half. He found an open lane and went directly into a Wildcats defender. He jumped up and threw a hard dunk and drew the foul call to give the Hoyas a 13-10 lead.
CLICK HERE FOR MORE SPORTS COVERAGE ON FOXNEWS.COM
The good times didn't last long for the Hoyas, however, even as the game was tied at halftime 35-35.
Villanova's Caleb Daniels made six 3-pointers and finished with 20 points, and Brandon Slater added 14 points to help the Wildcats beat Georgetown 73-57.
Georgetown's loss meant they lost 25 straight Big East regular season games, breaking the tie with DePaul for the most consecutive losses in conference history. The Hoyas went 0-19 in conference last season and 6-25 overall, including 21 straight losses.
TEXAS A&M BASKETBALL GAME DELAYED AFTER AGGIES FORGOT UNIFORMS AT HOTEL
«It's not about how many times you get knocked down, it's about how many times you get up,» Georgetown coach Patrick Ewing said after the game. «It's all about picking yourself up. There will be streaks in all sports.»
Murray also had a stroke of bad luck. He walked off the court midway through the second half clutching his right arm.
Georgetown athletic director Lee Reed told the Associated Press that he believed Ewing was committed to turning the tide for the Hoyas, but acknowledged that the string of losses was a «challenging and frustrating time.»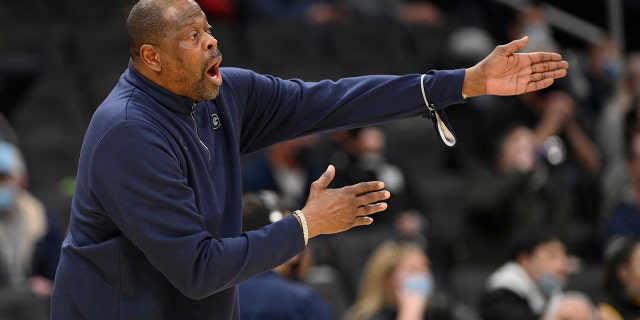 «We recognize that this is a challenging and frustrating time for the men's basketball team and our fans,» Reed told the AP. «Coach Ewing understands that it's imperative to get the program back on track, and no one is more committed to making that happen than he is.»
Ewing refused to talks about the speculation about his future with the team.
CLICK HERE TO GET THE FOX NEWS APP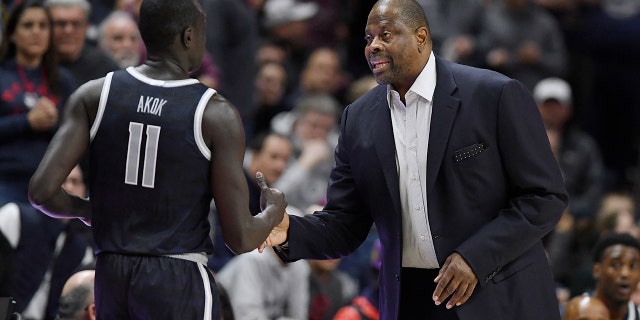 «I'm here to talk about the game. My future is my future,» Ewing said. «I'm going to be the head coach at Georgetown until the president or the board decide that I'm gone… You know, a friend of mine sent me a quote today: 'It's not about how many times you get knocked down; it's how many times you get up.' They knocked us down, so all we're going to do is keep getting up.»
Associated Press contributed to this report.