TEXAS — When she was 7 years old, Adelyn Vigil believed that death was the way to live as a girl.
Adelyn's nightly prayer to God was to become a bird so she could fly, then die, and then become a girl.
«I was crying and I told her: 'Oh, but mom, it's going to take me a long time, because first I have to die as a boy and then as a bird and then as a girl,» Adelyn, 14, told Noticias. Telemundo about her conversation with her mother years before.
«The only thing I could say without crying was: 'You know you don't have to die,'» the mother of the trans teen, Adamalis Vigil, said in an interview, recalling the conversation. «I said, 'If that's what's going on to make you happy, you can do that. You don't have to die.'
Adelyn usually speaks with a smile, except when she starts talking about what scares her: the estrogen hormone treatment she started a year ago is wearing off and she's left without a doctor after Texas Republican Gov. Greg Abbott, will sign State Senate Bill 14 into law in early June. The law prohibits medical professionals from prescribing puberty-blocking drugs, hormone therapies and gender transition surgeries in children under 18 years of age.
The law «is going to be the toughest battle we're going to face,» Adelyn's mother said. The advice of a team of specialists and specialized medical care «is what has kept my daughter alive,» she added.
Adelyn is one of nearly 30,000 people ages 13 to 17 who identify as transgender in Texas, according to data from the Williams Institute at the University of California, UCLA. It is the largest young transgender population of the nearly 20 conservative states that have passed similar laws in recent months.
Wanting to be a lawyer like Elle Woods (Reese Witherspoon) in «Legally Blonde» when she grows up, Adelyn wants to move to Washington, DC, work in human rights and one day be a mother.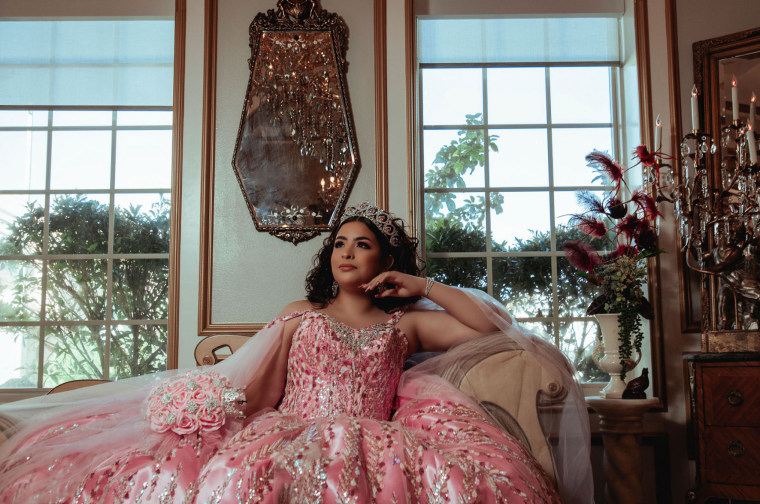 "It's crazy what these legislators are trying to do, someone has to stop them," Adelyn said of the state bill.
At least 64 anti-trans bills have been introduced in Texas and four have passed, according to a count by Trans Legislation Trackeran advocacy group that tracks these laws across the country.
Those who promote and support laws that prohibit gender-affirming care for minors, including puberty blockers and hormones, believe they are too young to make these kinds of decisions about their bodies and that the care is too experimental.
gender affirming care It is supported by leading medical organizations such as the American Medical Associationhe American Academy of Pediatrics and the American Psychological Association.
'I knew I was in the wrong body'
Adelyn spoke with Noticias Telemundo before her 15th birthday on July 24. She was moved when talking about her quinceañera party — a tradition in Latino families when a young girl turns 15 — and she was thrilled with her dress, which had crystals, sequins, a bow, and a layer of tulle. . She bought it in Mexico, where her family is from.
According to Adamalis, the first hints about her son's gender identity came early, when Adelyn was 3 years old. One day, Adamalis was sorting clothes in her closet and Adelyn saw a fuchsia party dress with crystals and asked her mom not to give it to her. «When I grow up,» Adelyn told her mom, «I'll be a woman and wear it.»
Adamalis told the boy: «It doesn't work like that, when you're born and you're a boy, you grow up and become a man,» he said. «And when you're born and you're a girl, you grow up.» get up and become a woman. It doesn't work any other way.»
Adamalis said she tried to get information to understand what was happening and after a lot of searching, she found articles about trans people. "I had a word for what was happening to Adelyn," she said.
"I knew I was in the wrong body," Adelyn said. For Adelyn, there was first a social transition: buying girls' clothes and shoes, growing her hair, changing her name, and telling her family, friends, and school staff who she was.
"My first instinct was to take her to the doctor," her mother said. A pediatrician «physically examined her and he was the one who told me: 'Your first step is going to be to take her to a counselor, a psychologist and talk to the school.'»
Transgender people like Adelyn often experience «a real disconnect between their sex assigned at birth and their inner sense of who they are.» according to the Human Rights Campaign. The anxiety caused by this disconnect has been referred to by doctors as gender dysphoria, as it can cause intense pain and anguish in the lives of trans people.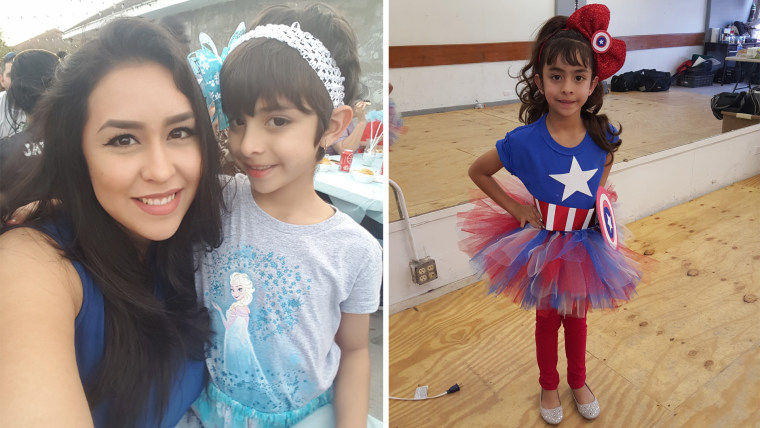 She was "very sad all the time and would come home and cry," Adamalis said.
Medical treatments, then a law that prohibits them
For Adelyn, puberty blockers weren't an option until she was 13; then, after intense and prolonged care and medical evaluations, she began hormone therapy with estrogens for a year. Her treatments allow her to maintain a finer voice and prevent her from developing masculine features such as a prominent Adam's apple.
Adelyn said that Texas' ban on this type of treatment of minors is "as if lawmakers are telling you, 'No, it can't be you anymore'; 'wait wait'. But if I wait, I'll look like a man, I don't want that," she said, adding that this is one of her biggest fears.
Puberty blockers «temporarily halt this process of change and give the adolescent and their family members the opportunity to explore a little more about what their options are going forward,» said Dr. Uri Belkind, associate medical director of Adolescent Medicine at Callen -Lord. New York Community Health Center.
There are a series of protocols and medical criteria that must be followed before prescribing hormones and they are not recommended in children who have not yet started puberty, according to the Mayo Clinic.
puberty blockers, according to the Mayo Clinic, «do not cause permanent physical changes» but can affect growth, bone density and fertility, «although it depends on when the medication is started.» That is why they recommend that each case be evaluated specifically and that patients have a specialized medical team.
"We have enough evidence to say very clearly that these drugs are medically necessary, that they produce benefits, that the benefits outweigh the risks, and that, in one way or another, they improve quality of life and even save lives," Belkind said. .
That's why the bill worries Adamalis.
"Of all the battles, I think this is the worst, because this kind of help is what has kept my daughter alive," Adamalis said of her daughter. «When I found her [medical] team, she was happy. Her anxiety went away, her panic attacks went away,» Adamalis said.
Laws like the one in Texas, Belkind said, prevent medical professionals like him from giving patients the care they need, and by not having access, "they see their body slip further and further from their self-concept. "
This is dangerous because it generates anxiety, depression and stress. «We know that suicide rates go up in patients who don't have access to these kinds of drugs,» Belkind said.
Adelyn and her family drove eight hours to appointments with the endocrinologist who was overseeing her transition along with a team of experts. A few days ago, they received a letter from the endocrinologist saying that they could no longer treat her. The doctor was moving to California, the doctor confided to the family, because of the situation in Texas.
As a family, they are considering traveling to New Mexico or Mexico to seek medical care that is denied to them at home. Adelyn doesn't want to live in Texas, but her mother said moving is unfortunately not currently a possibility.
Adamalis said the medical treatment they've been able to get so far "has given us the best years of Adelyn," but now she feels fear and helplessness.
She asks politicians to «educate themselves on the subject, but more than anything, focus on what the problem really is: immigration reform, getting better health insurance, gun reform.»
Trans children and adolescents "are not the problem," Adamalis said.
'He has saved our entire family'
Juan is going to be 10 years old and identifies as trans. Due to his age, he has only experienced a social transition with the support of his family, of Mexican origin, and a medical team that includes psychologists and counselors. The family lives in California, a state that, unlike Texas, has passed legislation to protect legal and medical rights of LGBTQ+ people.
Juan's transition began three years ago, although «from a very young age, from a very young age, about 2 years old, he always identified himself as masculine,» his mother, Grisel Soriano, told Noticias Telemundo.
The process, he said, has not been easy. "We went through a very complex emotional situation… because we didn't really understand what was happening," Soriano said.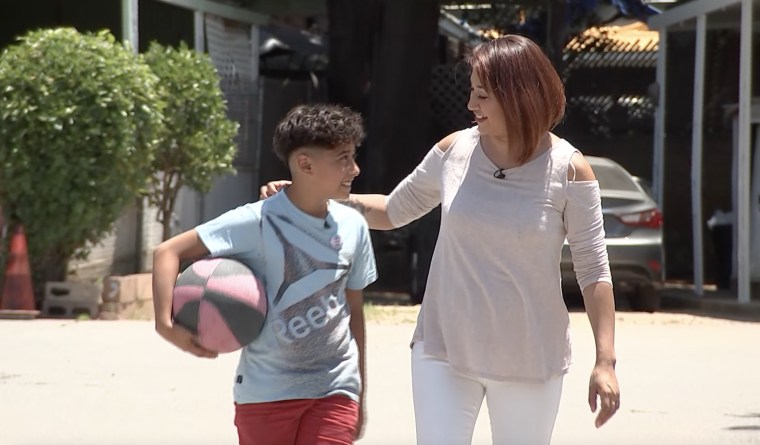 For two years, the family tried to find alternatives, such as taking refuge in religion, but "we really started the transition of survival," Soriano said, adding that by the age of 6 "Juan had already had thoughts of death."
His clothes, his hair, his name, made him suffer, Soriano said. «He didn't like the genre we were forcing him to live in at all.»
The family, guided by a team of medical experts, has supported Juan, although his mother feels that as parents they are judged and recriminated by a society that does not understand them.
"It is difficult to understand a trans family. It's hard to understand a trans child when you don't have them at home…until we hear our children say they'd be better off dead," Soriano said.
Soriano believes that there are many myths surrounding trans children and their families. «They judge us as if one day our children decided to be trans children and we say happy, we are going to help them… We go through a difficult process and we do it out of affection, out of love,» he said.
Families, especially parents, go through a process similar to the stages of grief: shock, denial, anger, bargaining, and acceptance. wrote Jason Rafferty, pediatrician and psychiatrist from the American Academy of Pediatrics.
Rejecting and suppressing trans minors will not cause them to change their gender identity, Rafferty wrote, but it harms a child's health and emotional development and possibly contributes to high rates of depression, anxiety and other mental health problems.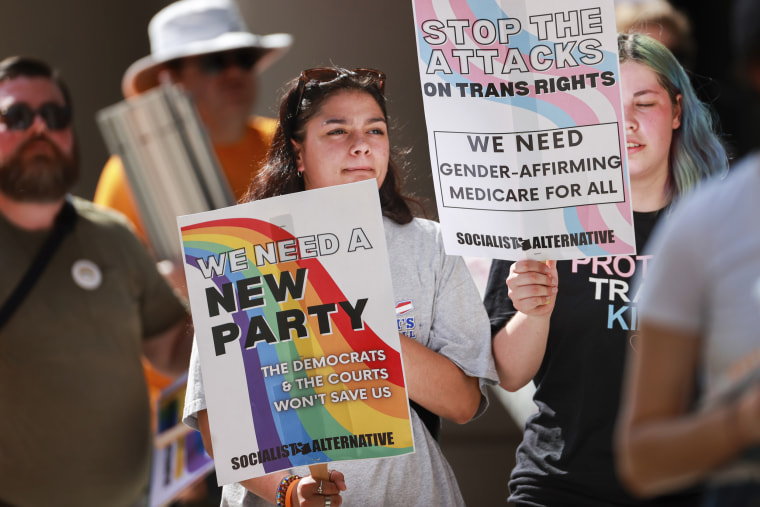 Nearly 600 anti-trans bills have been pushed across the country by 2023, according to the Trans Legislation Trackeraccount. In contrast, in 2015 only 19 bills were promoted.
Juan's transition—he chose his name—"has been a joy for him," said his mother. «After we started the transition, I saw him comfortable, I saw him happy, I saw him content…Juan, he has saved our entire family.»
Juan, whose favorite sport is football, wants to be a doctor when he grows up. "I want to help kids who are trans too," he said.
He wanted to tell his story so that other children like him would know that "everything will be fine".
An earlier version of this story was first published on Noticias Telemundo.