South Korean President Yoon Suk Yeol paid a surprise visit to Ukraine on Saturday, offering support to the invaded country in its war with Russia and demonstrating his own nation's cooperation with NATO.
Yoon's office said he traveled to Ukraine with his wife, Kim Keon Hee, after trips to Lithuania for a NATO summit and to Poland. It is his first visit since Russia invaded Ukraine almost 17 months ago.
Yoon toured Bucha and Irpin, a pair of small towns near kyiv where civilian bodies were found in the streets and mass graves after Russian troops withdrew from the capital region last year. He left flowers at a memorial to the country's war dead.
The South Korean leader was scheduled to hold talks with Ukrainian President Volodymyr Zelenskyy later that day, Yoon's senior press affairs adviser Kim Eun-hye said in a statement.
South Korea, a key US ally in Asia, has joined international sanctions against Russia and has provided humanitarian and financial support to Ukraine.
But the Asian nation, a growing arms exporter, has not provided weapons to Ukraine in line with its longstanding policy of not supplying arms to countries actively involved in conflicts.
Earlier this month, Yoon said in written responses to questions from The Associated Press that supplies of mine clearance equipment, ambulances and other non-military materials «are in the works» following a request from Ukraine.
He said South Korea has already provided support to replace the Kakhovka dam, which was destroyed last month. The Russian and Ukrainian governments have accused each other of blowing up the dam, but evidence suggests Russia had more reason to cause deadly flooding, endanger crops and threaten drinking water supplies in a disputed part of Ukraine.
"The government of the Republic of Korea is firmly committed to actively joining the United States and other liberal democracies in international efforts to defend Ukraine's freedom," Yoon said in written responses to the AP.
During a visit to South Korea in January, NATO Secretary General Jens Stoltenberg called on the country to provide Ukraine with direct military support, saying Kiev urgently needed weapons to combat the protracted Russian invasion.
South Korea is not a member of NATO, but like Japan, Pakistan and a handful of other countries, it considers itself a global partner in the military alliance. Japanese Prime Minister Fumio Kishida visited Ukraine in March.
In May, when Yoon met Ukraine's first lady Olena Zelenska in Seoul, the president said he would extend South Korea's non-lethal aid to Ukraine. Yoon's spokesman, Lee Do Woon, said at the time that Zelenska did not request arms supplies from South Korea during her conversation with Yoon.
Since Russia's invasion of Ukraine in February 2022, South Korea has struck deals worth billions of dollars to provide tanks, howitzers, fighter jets and other weapons systems to NATO member Poland.
A US official said in November that the United States had agreed to buy 100,000 artillery shells from South Korean manufacturers to give to Ukraine, though South Korean officials have maintained the munitions were intended to replenish depleted US stocks.
Yoon and Zelenskyy met in May on the sidelines of a summit of the Group of Seven industrialized countries in Hiroshima, Japan. Zelenskyy thanked South Korea for its humanitarian shipments of medicines, computers and generators and requested additional supplies of non-lethal items, Yoon's office said at the time.
The two leaders also agreed to work to help South Korean companies involved in post-war reconstruction projects in Ukraine, according to Yoon's office.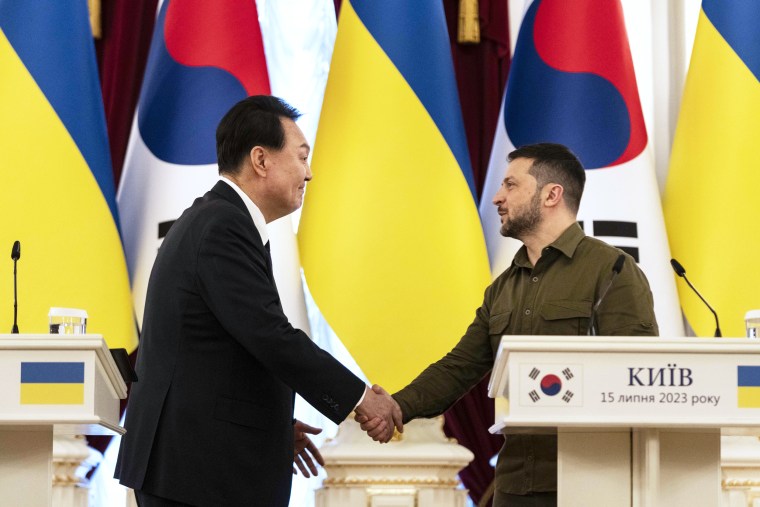 «Yoon's visit to Ukraine reflects his globally-minded foreign policy and shows South Korea's solidarity with NATO partners in upholding the rules-based international order,» said Leif-Eric Easley, a professor at Ewha University. in seoul. «Seoul's support for Ukraine includes not only humanitarian assistance, but also arms sales to replace NATO countries providing military aid to Kiev and plans for post-conflict infrastructure reconstruction.»
The visit by Yoon and his wife came two days after Russia launched another barrage of Iranian-made drones in the kyiv region. Ukrainian authorities said their air defenses intercepted the drones, but the remnants rained down on four districts of the capital, injuring two people and destroying several houses.
Although kyiv was not attacked in the hours before the South Korean president's arrival, Ukrainian forces shot down 10 Russian drones across the country on Friday and overnight, the Ukrainian air force said on Saturday.
In a Telegram post, the air force added that Moscow fired six Iranian-made Shahed drones into southern and eastern Ukraine overnight, four of which were downed. He did not immediately provide details on casualties or damage.
In southern Ukraine's Zaporizhzhia province, where Ukraine took part in a counteroffensive to retake occupied territory, there were 45 airstrikes and artillery strikes between Friday and Saturday, Governor Yurii Malashka said.
Russian forces shelled neighboring Kherson province 70 times during the same period, using mortars, artillery, drones, tanks, aircraft and multiple rocket launchers, Governor Oleksandr Prokudin said on Saturday. No civilians were injured, he said.
Russian shelling over the past day killed a civilian in the eastern Ukraine's Donetsk province, Governor Pavlo Kyrylenko said on Saturday. Ukrainian forces have been pressing their counteroffensive in the area, inching from Velyka Novosilka towards the Russian-occupied city of Mariupol.