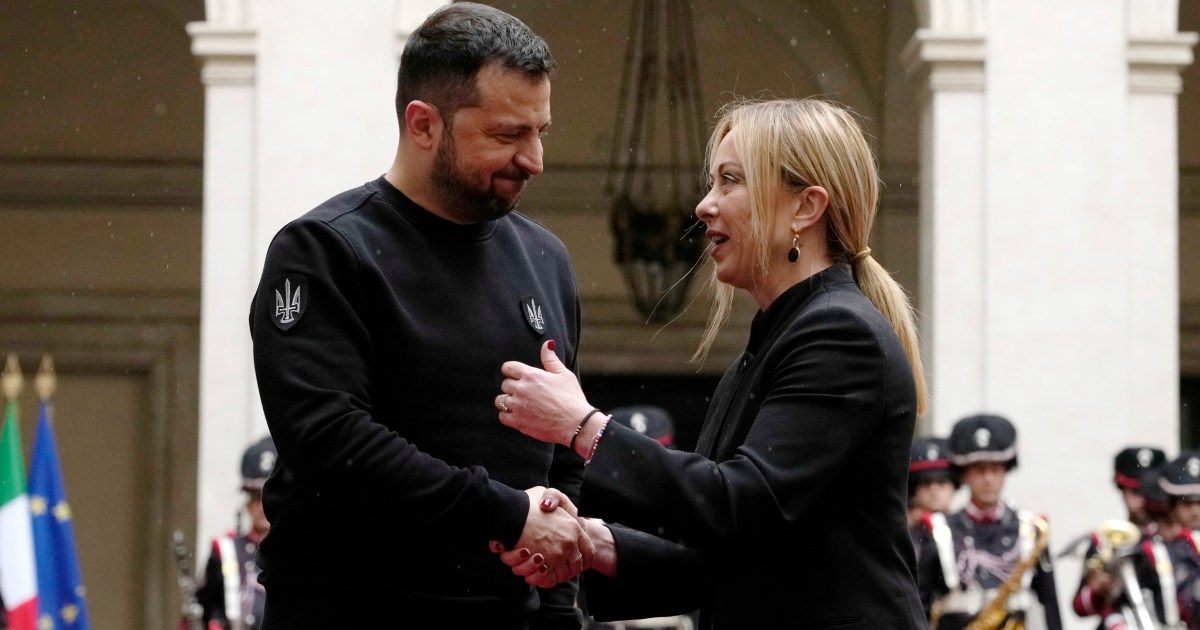 Ukrainian President Volodymyr Zelenskyy landed in Rome to meet Pope Francis and Italian officials on Saturday, his first visit to the country since the start of the Russian invasion.
Announcing his arrival in the Italian capital on Twitter, Zelenskyy said it was «an important visit for the imminent victory of Ukraine!»
Italian Foreign Minister Antonio Tajani met the Ukrainian president at a military airfield at Rome's Ciampino airport. Italian state radio reported that a no-fly zone had been ordered in the skies over Rome ahead of the meeting, with police snipers stationed in high-rise buildings for Zelenskyy's safety.
Prime Minister Giorgia Meloni and Head of State Sergio Mattarella are strong supporters of increased military and financial aid for Ukraine.
Meloni last met Zelenskyy in kyiv in February, shortly before the anniversary of the full-scale invasion of Russia on February 24, 2022.
There he reiterated his support for the country, after former Prime Minister Silvio Berlusconi, close to Russian President Vladimir Putin, blamed Zelenskyy for the war in Ukraine.
Divided opinion within Italy's ruling right-wing coalition over support for Ukraine has frequently threatened the stability of the government.
Both Berlusconi and Matteo Salvini, who serves as Italy's deputy prime minister, have voiced strong criticism of Western sanctions against Russia. Meloni, who leads the far-right Brothers of Italy party, has previously threatened to tear apart the coalition that made her prime minister with any party that did not see support for Ukraine as a cornerstone of Italy's foreign policy.
Zelenskyy's trip to Rome follows the announcement of a Vatican initiative by Pope Francis for a secret peace «mission» in the conflict between Russia and Ukraine. The Vatican hopes to facilitate the return of Ukrainian children taken to Russia during the war in a program of forced relocation and re-education that the International Criminal Court has previously designated as a war crime.
Since Russia invaded Ukraine in February 2022, Francis has regularly referred to Ukraine and its people as «martyrs» and has called for an end to the fighting, though Ukrainian diplomats have previously complained that he has not been tough enough on Russia. and the Russian president. Vladimir Putin, in an effort to avoid alienating Russia from the Church.
Following their meetings in Italy, Zelenskyy is expected to travel to Germany, in another first state visit since the start of the Russian invasion. Zelenskyy's chief of staff, Andriy Yermak, announced on Telegram on Saturday that Germany will provide a new aid package of 2.7 billion euros ($3 billion) to Ukraine.
Inside Ukraine, Russia appeared to admit it had lost ground in the key eastern city of Bakhmut, where Russian and Ukrainian troops have been bogged down for months.
Although the Ukrainian advance was modest, it raised new questions about the Kremlin's hopes of a token victory in the city and fueled broader fears among Russian observers about military positions on the front lines of the war.
For months, Russia anticipated the arrival of a Ukrainian spring counteroffensive that is expected to target occupied land across the country. Moscow's own winter offensive ended with public infighting as it suffered heavy battlefield losses, with more than 100,000 fighters from Kremlin forces killed or wounded since December alone, according to US estimates.
Associated Press contributed.